We pool talent, tech, tools, and the interdisciplinary skills and expertise of our team across many sectors and domains.
Through our experience, we've learned there are three areas of expertise that represent the greatest unmet needs for practitioners and funders alike: evaluation, data and technology, and policy and procurement. Through a shared services format, our interdisciplinary teams develop solutions that connect these areas to your organization's strategy.
Current evaluation practice places practitioners in the caboose instead of the engine of evaluation design and promotes a "one study at a time approach" to evidence building. Practitioners lack the evaluative capacity, tools, and talent for continuous evidence building as well as the funding to support their efforts. Our team and partners are developing tools and services, and providing access to talent for evaluation and learning that are helping practitioners lead their evidence agendas with clarity, confidence, and the courage to discuss data and evidence with funders, vendors, and researchers.
Practitioners and funders in the social and public sectors are lagging the for-profit sector in data and technology, so we are recruiting experts and establishing strategic partnerships that can open up the supply channels to best-in-class technology and service providers. However, access to technology—even if made completely free—is often not enough. Organizations need talent and support too. The practitioners and funders we work with gain access not only to tools and services, but also to experts from our team and from partners like Tableau, Salesforce, and Amazon Web Services to help with their data and technology needs.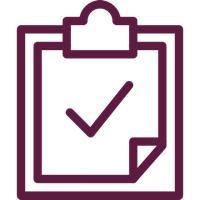 While nonprofit practitioners deliver a sizable chunk of the nation's social services, there remains a significant imbalance between public policy and service delivery. Government regulations, policies, and restrictive systems hobble access to administrative data and contribute to data fragmentation. Moreover, public procurement processes place costly administrative burdens on practitioners. Our team and partners are developing a set of tools to help practitioners and policymakers advance evidence-based funding and decision making. We are also championing changes to contract procurement and clearinghouse practices, and working with data collaboratives to improve protocols for how government data is accessed.
Skills & Expertise
Policy & Procurement Strategy
Fund Development & Portfolio Analysis
Evaluation Methods & Design
Product Design & Development
Learning Science
Data Science
Data Analytics & Visualization
Technology Management & Integration
Advanced Social Science Statistics
System & Solution Architecture
Policy & Program Domains
K-12 & Postsecondary Education
(see our Education Practice)
Employment & Training
Criminal Justice, Re-entry
Child Welfare
Early Childhood & Pre-K
Youth Development